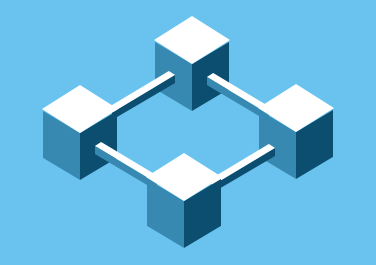 Blockchain technology is a distributed ledger that securely and transparently records transactions and data. This technology has the potential to alter a wide range of industries, including finance and healthcare, as well as supply chain management and real estate. In this post, we will go over the fundamentals of blockchain technology and its potential impact on many businesses.
Blockchain, in its most basic form, is a digital ledger that records transactions and data in a decentralised and secure manner. It is a collection of data-containing blocks, each linked to the one before it in a chain-like structure. Each block has a unique code known as a "hash," which makes tampering with the data contained in the block nearly impossible.
Blockchain technology is built on the concept of cryptography, which ensures the data stored in the blockchain is secure and transparent. Each block is validated by a network of computers or nodes, and once added to the blockchain, the block cannot be changed or erased.
Blockchain Technology and Finance
Blockchain technology has the potential to transform the financial system by enabling secure and transparent transactions without the use of intermediaries such as banks. Cryptocurrencies based on blockchain technology, such as Bitcoin, Ethereum, and Litecoin, have grown in popularity in recent years, and many organisations and individuals are now utilising them as an alternative to traditional currencies.
One of the primary benefits of blockchain-based cryptocurrencies is that they allow for quick and safe transactions without the use of a third-party intermediary. This allows users to transact more efficiently and at a lesser cost than traditional banking techniques. Furthermore, the implementation of smart contracts on the blockchain enables the automation of some financial transactions, decreasing the need for middlemen even further.
Blockchain Technology and Healthcare
Another industry where blockchain technology has the potential to have a huge impact is healthcare. The application of blockchain technology can aid in the resolution of challenges such as data privacy, security, and interoperability.
The development of a secure and transparent electronic health record (EHR) system is one application of blockchain technology in healthcare. A blockchain-based EHR system can provide patients ultimate ownership over their health data and allow them to securely and transparently exchange it with healthcare providers.
Furthermore, using blockchain technology in clinical trials can help maintain the integrity of data obtained and improve process transparency. The entire clinical trial process, from patient recruiting through data collecting and analysis, may be tracked and verified utilizing blockchain-based platforms.
Blockchain Technology and Supply Chain Management
The application of blockchain technology in supply chain management can aid in the improvement of transparency and efficiency in the transportation of products and services. Blockchain technology can assist to reduce the risk of fraud, counterfeiting, and other sorts of supply chain disruptions by generating a secure and transparent record of transactions.
One use of blockchain technology in supply chain management is the development of a safe and transparent food tracing system. Food goods may be tracked from farm to table utilising blockchain-based systems, ensuring that they are safe, fresh, and free of contamination.
Blockchain Technology and Real Estate
The usage of blockchain technology in real estate can assist to speed property transaction processes while also improving transparency and security. It is feasible to construct a safe and transparent record of property ownership, transfers, and transactions by using blockchain-based solutions.
The development of a decentralised property listing platform is one application of blockchain technology in real estate. It is feasible to construct a secure and transparent record of property ownership and transactions using blockchain-based technologies, making it easier for buyers and sellers to interact without the need for intermediaries.
Blockchain and Tourism Industry
Blockchain technology has numerous potential applications in the tourism business. Secure payment processing is one of the most significant advantages, as it can eliminate intermediaries and lower the risk of fraud. Furthermore, smart contracts can automate bookings and payments, lowering the time and costs associated with human processing.
Blockchain technology can also provide a decentralised identity verification system, allowing travellers' identities to be verified and lowering the danger of identity theft. Furthermore, it can provide the tourism industry with a transparent and secure supply chain management system, allowing stakeholders to track the origin and authenticity of products and services. Other potential benefits that can improve trust and openness in the industry include decentralised loyalty programmes and tamper-proof systems for reviews and ratings.
Challenges and Limitations of Blockchain
While blockchain technology offers many potential benefits, it also has substantial hurdles and drawbacks, including scalability constraints, environmental concerns, and regulatory obstacles.
To begin, because blockchain technology is sluggish and resource-intensive, it might be difficult to scale for applications with significant transaction volumes. Secondly, the process of confirming blockchain transactions may necessitate enormous processing power, raising environmental worries about the energy required by the computers. Thirdly, the decentralised nature of blockchain technology can make it difficult to monitor and enforce laws, raising worries about fraud, money laundering, and other illicit activity.
In addition, even if the system is supposed to be very secure, there is still a danger of human mistakes when entering data into the system or generating smart contracts, which can result in vulnerabilities and errors. Furthermore, blockchain technology is dependent on internet connectivity, which may be an issue in locations with limited or unpredictable internet access.
Blockchain and Its Future
Blockchain technology has made significant advances in a variety of industries, including finance, supply chain, and healthcare. Many firms have benefited from its capacity to provide secure and transparent solutions. Blockchain technology is projected to acquire popularity in other industries such as real estate, education, and gaming as it evolves. However, as more businesses use blockchain, the requirement for interoperability between blockchain networks to facilitate seamless transactions and data exchange grows. Integration of blockchain with other emerging technologies such as artificial intelligence, the Internet of Things (IoT), and cloud computing is also expected to generate new business models and improve existing ones.
As blockchain technology becomes more generally deployed, governments and regulators are expected to introduce additional regulations and standards to assure compliance and safeguard consumers. Furthermore, the high energy consumption of blockchain networks has prompted environmental concerns, leading to a push for more energy-efficient and sustainable blockchain networks. Finally, the present consensus mechanisms employed in blockchain, such as proof of work and proof of stake, have limits. There is a need for new consensus techniques that handle scalability, security, and decentralisation. Despite these limitations, the potential benefits of blockchain technology are substantial, and it is predicted to continue to affect the future of numerous industries.
Conclusion
In conclusion, blockchain technology has the potential to transform various industries, including tourism, by providing secure, transparent, and efficient solutions to complex challenges. However, there are still challenges to overcome, such as interoperability, regulatory frameworks, and energy consumption. Despite these challenges, the future of blockchain looks promising, as it continues to gain traction in various industries and evolves to address its limitations. As blockchain technology advances and becomes more widely adopted, it has the potential to create new business models, enhance existing ones, and bring about a more transparent and secure future.